Knowing how to tighten skin can take years off your face. The loss of volume and sagging, caused by collagen loss, is partly what makes our skin look older. Thankfully, drastic measures are no longer required to achieve a more youthful appearance (bye,

bye surgery)! Find out how to tighten skin in this video.
Here, Melissa explains how Radiofrequency (RF) treatments can help you.
How to tighten skin and target your sagging
This noninvasive treatment works by putting radiofrequency waves through the skin. But what exactly are these waves? To put it simply, radiofrequency is a type of energy. And like any form of energy, radiofrequency has the capacity to produce heat. Applying this energy or heat to an area such as your face or neck penetrates heat into your skins deeper layers. This induces new collagen production and encourages cell turnover, helping your skin become more youthful-looking. The treatment feels quite warm but not uncomfortable. And the best part? Not one needle is involved!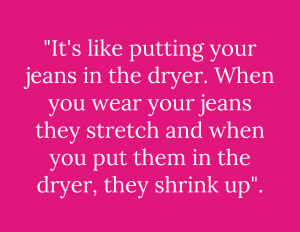 It can be used on the body too
We all have some sagging skin around our bodies, don't we? That little bit of wobble we feel when we wave or walk down the stairs. The good news is that Radiofrequency treatments can also be used on the body, think your underarms and stomachs.
There is no downtime (so nobody will know)! But how often and when will I see results?
As with any treatment, we are relying on your body to respond a particular way to these Radiofrequency treatments. Individual results can vary from fantastic to very little. And unfortunately until you have the treatment we can't know whether you're going to be a suitable candidate, whether you're going to be the person who gets the fantastic results. Most people get some result. Results can take a couple of months to come out fully because we do get some new collagen growth as well. We recommend a course of 6-8 treatments and for you to come in every 2 weeks for your treatment. After the initial course of treatments, we do recommend you follow up with a treatment every 3-4 months to maintain your results.
Find out more about Radiofrequency treatments here.