Anti Aging Skincare & Make Up
Advanced Skin Technology [AST] was established in 1994, and are the leading providers of clinical skincare products and treatments within the medical cosmetic market in Australia. AST umbrella a list of brands such as Aspect, Dr Aspect, Cosmedix, SkinMedica, Results Rx, Societe, just to name a few. Advanced Skin Technology only provide brands that are trusted by dermatologists, physicians and aestheticians worldwide for enhanced results.
At Jeune we mainly stock two of these ranges being Cosmedix and Aspect. Bringing In specialized products from the other ranges as required. WE use both the take home and professional ranges
All our products come with a money back guarantee should you have any sort of reaction to the product
We like to work with you to make sure you get the most out of your skincare. Come in for a FREE skin analysis and individualized skincare prescription, so we can ensure you are using the right products for your skin. We also like to reassess your skin after you finish each of the products to determine if we need to adjust your skincare prescription
Aspect Skincare:
The Aspect skin care range is made in Australia and was developed for men and women who want a simple but effective skin care regime. Aspect products do not contain any of the "nasty" ingredients found in many skincare ranges such as parabens , that can cause irritation to the skin, because skin should always be nurtured and never tortured.
Aspect Skincare contains chirally corrected active ingredients. This means the active part of the molecule is kept intact but the parts of the molecule that can cause irritation are removed, this in turn will increase effectiveness and comfort. Whether addressing a simple skin to requiring serious skin solutions, goal to normalise and better your skin. Aspect promises to deliver the youthful glowing skin and complexion that you so desire in no time at all.
Aspects philosophy is to "feed" the skin so it normalizes and functions at its best. Having only one cleanser and two moisturisers, they believe that healthy skin will function efficiently. The key products are their active multi-ingredient serums, targeted towards skin care concerns, which work deep in the skin to address problems such as oil production, aging, pigmentation, congestion. These serums are classed as cosmeceuticals, products which actually change the structure of the skin. .
All Aspect products contain Canadian Willow herb extract which has anti-inflammatory properties for soothing and calming effects, as well as antioxidant properties.
Aspect also have a range of starter kits beginning at $99 which contain all you need for your skincare regime.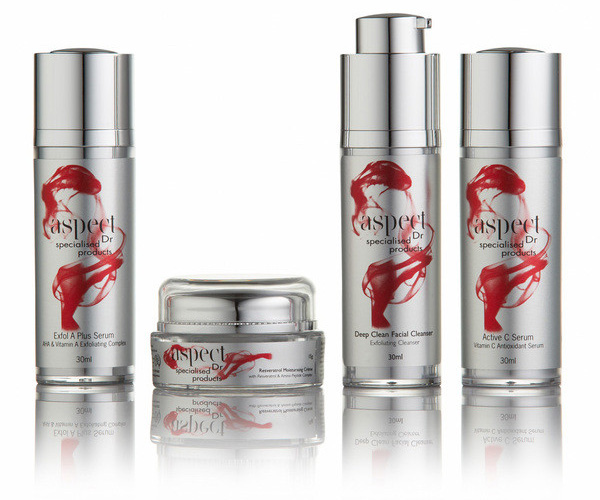 Cosmedix:
The Cosmedix brand is the second brand we use. Having slightly stronger products than the aspect range, we tend to use this as our "step up" brand. Like aspect the philosophy is to provide skincare that is extremely active with little or no irritation. You'll never find paraben, artificial dyes or harsh actives in their products only powerful pure ingredients that produce rapid results. One of the problems with highly active ingredients is not only irritation but keeping them stable so they don't go "off". Cosmedix formulas represent significant technical challenges, that involves perfect chemistry, to create stable efficacious products that interact optimally with your skin, making them truly one-of-a- kind.
Cosmedix is one of the leading cosmeceuticals brands in the world. Made IN America it is also truly ahead of other leading skin care brands; as is it powered by botanicals, it is one of the most natural professional skincare brands in the world, making it very environmentally friendly.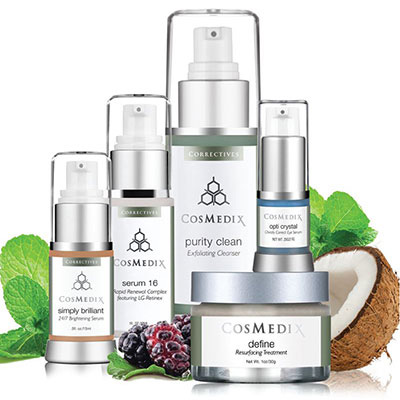 Jane Iredale Mineral Make Up:
Jane Iredale Mineral Cosmetics was founded in the aesthetic industry in 1994. Jane Iredale herself was inspired to develop make up that had benefits to the skin; as she personally saw actresses and models in the entertainment industry struggle with the ill-effects of various make up brands. Jane Iredale Mineral Cosmetics understand that make up in an essential part of a women's sense of well-being; that is why their mineral make up is a multifunctional, easy to apply; foundation, powder, concealer and sunscreen "All-in-One". Their products are sure to make you look good, feel good, and are good for your skin.
The Jane Iredale Difference:
Jane Iredale mineral powders have changed the perception of make-up. They have become an important part of compliment therapy world-wide because of their benefits to the skin and their ability to conceal imperfections. Jane Iredale ensures quality formulation in their skin care products using pure mineral pigment and the highest quality ingredients, without fillers such as talc, to give the best possible coverage, therefore their foundations and concealers give exceptional coverage that requires minimal touch-ups. Jane Iredale make up provides a protective barrier whilst still allowing the skin to breath; they also guarantee broad spectrum sun protection in prevention of sun-induced skin damage. Their make-up provide ongoing treatments with continuous use as they had added vitamins and antioxidants; this is why they are known as the 'Skin Care Make-up". They have multi-tasking products that provide four important functions in the one product; foundation, concealer, powder, sunscreen, which have active skin care benefits (Amazing Base, Pure Pressed Bases, Glow Time, and Dream Tint).
Jane Iredale products compact tightly to the skin to resist running, creasing and smearing. Jane Iredale make-up is so amazing, that they were awarded a "Very Water Resistant" rating in an FDA approved lab, which withstood 80 minutes in moving water whilst still maintain their SPF rating!
We recommend you try the following:
Smooth Affair: Facial Primer & Brightener will even skin tone, minimize the appearance of pores and increase luminosity. Smooth Affair primer will nourish your skin as your makeup applies more easily and lasts longer.
Amazing Base or PurePressed Base: Multi-tasking foundations provide four important functions in one exceptional product; foundation, concealer, sunscreen, and active skincare benefits.
Circle Delete: camouflages your dark circles and spots under the eyes, its vitamin k properties help to hydrate and improve this concern.