Facial Treatments & Cosmetic Injectables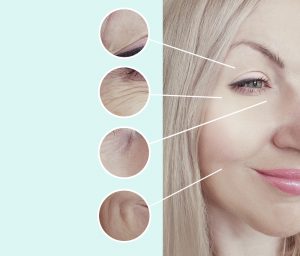 Are one of the most popular cosmetic medicine treatments done today. The simple ten-minute treatment can address,wrinkles caused by a muscle contraction the most common being frown lines and crows feet. The results are natural and subtle but still give a refreshed look.
As we age, we lose volume in our face. This is where our dermal and lip fillers come in. There a variety of different fillers to treat different areas of the face. This is where the skill of the injector come to the fore. Selecting the correct product for the correct area and correct placement are so important to achieve a natural result. Fillers can also be used to enhance features already present such as kips cheeks and jawlines to get a more aesthetically pleasing balance to your face.
Due to photoaging the skin can lose collagen and develop both red and brown spots making it look aged and deflated. With both the fractionated laser ( fraxyl) therapy to stimulate collagen and the IPL to treat the brown and red spots we can return the skin to its youthful state while also clearing up scars and open pores.
Fractionated Laser therapy is used to treat wrinkles, scarring including acne scarring, stretch marks, and to rebuild collagen in the skin. Most areas of the body can be treated including face, chest, arms and hands. Usually a course of 4 to 6 treatments is required, depending upon the strength of the laser, the depth of treatment and the degree of the problem.
Is a different way stimulate collagen and reduce pore size whilst allowing the infusion of vitamins deep into the skin. At jeune we have both the dermafrac which is a no pain no downtime amazing rejuvenating needling treatment as well as our derma pen which gives a slightly deeper treatment and is great for scarring and texture.
As we age we lose elastin and our collagen fibres stretch. I think of it like your jeans. When you put them on, they are firm as you wear them they loosen up. Radio frequency skin tightening is used to shrink collagen fibres and retighten the skin. Just like when you put your jeans in the dryer, giving the face a plump lifted appearance.
Is a manual exfoliation treatment to polish the skin and unclog the pores great as a prep for a peel or for acne and congested skin. We have both crystal and diamond microdermabrasion at Jeune so we can tailor a treatment for you.
There is a substance in our skin called hyaluronic acid which is acts as a magnet to water and keeps our skin looking hydrated, plump and dewy. AS we age and especially due to sun damage this depletes in the skin. So, no matter how much water we drink if the magnets aren't there to hold it the water will wash away. This leads to the skin looking dry and rough. With skin boosters we can replace this lost hyaluronic acid and revive the skin. It's like moisturiser under the skin .
Light to medium depth peels to exfoliate the skin and stimulate collagen renewal for plump hydrated glowing skin. We have different strengths and types of peels available for treating a variety of conditions from unclogging pores to deep antiaging rejuvenation.
A low level light therapy designed to stimulate collagen, aid in acne treatment and reduce pigmentation. LED is also great for healing and reducing swelling after an injectable or laser treatment.
Platelet rich plasma is taking your own blood and spinning of the plasma that is filled with healing and rejuvenating properties. For years PRP has been used in the treatment of damaged joints in your body. When the body has an injury, it floods the area with plasma and growth factors which aid in healing and repair of tissue. It has now been discovered this is great ijn the skin as well. PRP is amazing when teamed with any types of treatment that cause injury to the skin whether it be laser, needling or even deep peels.
Are you eyelids starting to sag, Don't want to have surgery , then this is the treatment for you. Using plasma energy to tighten the skin on the upper or lower eyelids you can lift the tissue. This treatment is safe and done in our office with local anaesthetic.