In This Edition
Injectable Treatment Of The Month
Treatment of the month
PProducts Of The Month
Hi Everyone,
Burrrr it's starting to get cold and windy out there. I think we are in for a cold winter. What a great time to hide away and do some treatments that may have a little downtime. We have some interesting and complex topics this newsletter; we hope you enjoy the read.
Does your face feel drawn; do people say you look tired? It could be lack of volume in your mid face read below how this can be treated.
Since summer has been and gone, most likely she has left her mark on your skin, leaving it damaged or pigmented. Now is the time for treatment. We will bring light on pigmentation and how it is caused and how to diminish it's appearance, as well as how to stop further pigmentation from occurring. We will discuss how combination therapy works its magic on providing a better picture; and as always we have a special deal for you…
Melissa has recently been at a conference in Sydney for advanced injectors. They discussed a lot about facial proportions and in females "beautifying" the face and in males "masculinising' the face. The difference between masculine and feminine features. There were also many advanced injecting techniques such as chins, noses and lifting brows.
One of the key features of the conference is "PHI" the golden ratio. This is the ratios of the face which make it more attractive. You can Google PHI the golden ratio for more information. We now have callipers that can measure these ratios on your face. If you would like to book with Melissa for a consult using these callipers to see how we can improve your ratios. Call and book an appointment 0425773687. AS this is a one hour appointment we ask for a $50 booking fee
Melissa will be on holidays 24th June to 14th July. In this time Tanya will be available at the Ascot vale salon Tuesday, Wednesday and Saturday. She will have access to all your records
Next newsletter we be featuring skin tightening and cellulite reduction, look out for it at the start of august.

Injectable Treatment Of The Month
As we age, there are many things happening to our faces. Our skin loses its elasticity, our skeleton shrinks, and we lose the fat from our faces. As one Dr puts it the table gets smaller but the tablecloth gets bigger. The most common area we lose fat from is our mid face. Many of our clients come in wanting their nasolabial folds ( the line from the nose to the mouth) or the marionette lines ( the lines from the cnr of the mouth down the chin) filled. When we look closely at these lines though we can see it's the loss of volume in the mid face that is causing these lines. Many clients also complain of looking "worn out or tired" this again can be caused by the loss of volume in the mid face drawing everything down and making it appear deflated
By simply filling the fat pads of the mid face with dermal fillers, we can bring back the rejuvenated and refreshed YOU! Filling the mid face can give the appearance of lifting the face
As you can see in the picture of Simon below who had a typical pattern of fat pad loss, filling the face can take years off your appearance. The advantage of mid face fillers is they last a long time, up to two years.
But rest reassured mid face fillers do not have to make you look like Joan Rivers. No chip monks at Jeune. We aim for a natural refreshed look
Our WINTER SPECIAL exclusive to our existing customers: 3 mls of dermal fillers for $1400 (normally priced at $1800).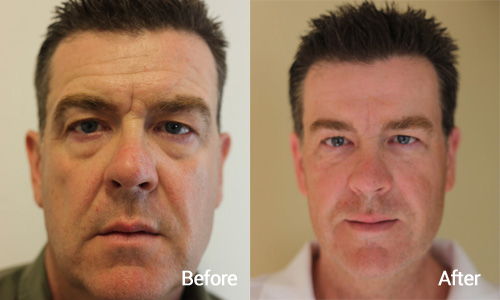 Treatment of the month
IPL Photo Rejuvenation:
Sick of those sun spots and broken capillaries. Winter is a great time to clean up the skin. Over time our skin gradually changes in colour, elasticity, and thickness. We develop pigmentation and redness through sun damage, genetics, dietary behaviours, age, and hormonal changes. This can be effectively reduced with IPL. IPL for Photo rejuvenation uses light therapy to reduce these imperfections. It can remove sunspots, reduce redness, diminish broken capillaries and as an added bonus causes collagen stimulation giving the skin a refreshed, refined appearance. Now is the perfect weather to have IPL for photorejuvenation to the face as the sun does not come out to play as often. For best results we recommend a 3 to 4 treatments performed 4 weeks apart, and maintenance treatment usually performed once per year to maintain and compliment the results. IPL can be done on any area of the body including neck hands and décolletage
This is a reminder for our clients who have had their course of treatments last year that you are now due for your maintenance session.
Our WINTER SPECIAL: Full Face x 3 treatments for only $450 (normally $900) – That's half price!!! Must book and pay upfront to redeem this exclusive deal!
Add Neck for $150
Add Décolletage for $150
Add Hands for $100
To maintain longer lasting results, and compliment your treatment, be sure to be on at least one of our "Pigment inhibitor" products below to stop further pigmentation from occurring, fade your current problem skin, and to protect and maintain a heathy skin barrier. Ask one of our consultants for the right product for you.
Please note we cannot treat dark olive, brown or black skins with IPL. It is advisable asian and darker Mediterranean skin start on a pigment inhibiting skincare for 4 weeks prior to treatment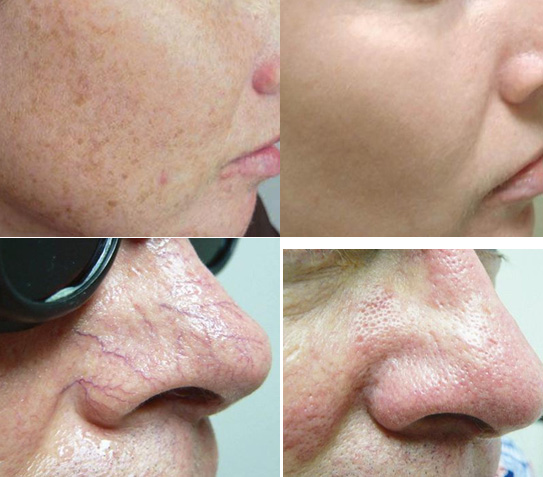 Products Of The Month
Pigmentation treatment products:
Pigmentation can be caused by a number of things such as sun damage, inflammation or trauma to the skin; hormonal changes due to pregnancy, menopause, or the pill. Having olive or darker skins, increases your risk of post-inflammatory hyper pigmentation ( skin that darkens with any type of injury or inflammation) If you a prone to pigmentation it is important to be on a couple of products which work together to achieve the best possible outcomes for you. These products include:
A brightening serum, which will help to fade the current pigmented cells that are visible on your skin. Products we stock:
CosMedix Simply Brilliant $68.64
Rx Lightening $121
SkinMedica Lytera $165
Vitamin A promotes cell turnover, therefore shedding the current damaged cells ( also has the added benefit of being the most powerful anti aging product) With this product we start slowly and gradual increase the strength over time;
Dr Aspect Exfol A Plus Serum (includes AHA) $121
CosMedix Define $99
CosMedix Refine $83.60
CosMedix Refine Plus $83.60
Vitamin C acts as a cap to help protect the healthy cells from further trauma and against UV radiation. It will stop new pigment from coming through. This product is also anti aging and is an essential part of your maintenance program;
Dr Aspect Actice C Serum $121
Aspect Extreme C Serum $121
Vitamin B is a great all-rounder multipurpose product which turbo charges your home care regime to further protect your skin cells
Dr Aspect Multi B Plus Serum $121
Pigment inhibitor the gold standard in prevention of new pigment. Great for those who are proned to pigment before any laser procedure;
Dr Aspect Complete Pigment Serum $121
20% OFF SKIN LIGHTENING PRODUCTS UNTIL END OF JULY
Contact our therapists to book a free consultation
and assessment to work out the right product for your skin condition